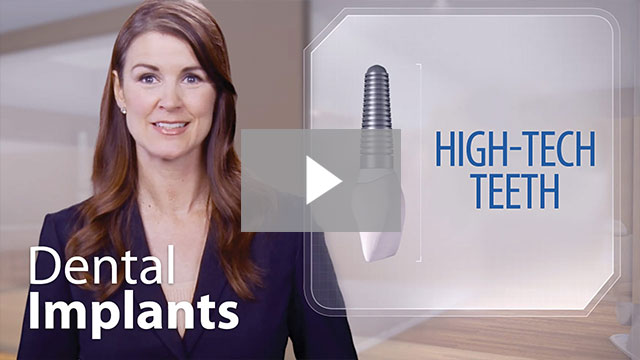 Dental implants are considered today's dental miracle. They are one of the most successful and predictable procedures in dentistry today. Receiving dental implants can be life-changing for many patients who come to visit Westermeier Martin Dental Care.
Dental implants are titanium posts that are surgically placed into the patient's bone in order to serve one of many applications. Dental implants can be used as replacement for a single tooth, groups of teeth, or an entire arch of teeth. They can also be used to stabilize loose or ill-fitting dentures. At Westermeier Martin Dental Care, we offer both standard surgical implants (traditional dental implants) and mini-implants. Mini-implants are simpler, faster and cheaper, but are often not as strong as traditional implants. Dr. Westermeier and Dr. Martin can help you decide which is best for you!
During the procedure, patients will be completely relaxed and anxiety-free thanks to the four different levels of sedation offered at Westermeier Martin Dental Care. Patients can enjoy dental treatment under sedation in order to reduce or eliminate possible fears and anxieties. Most patients feel little to no discomfort during or after the procedure, and many don't even take the post-operative medications prescribed for them for pain management.
Our dental implant restorations are very natural-looking. Now, Dr. Westermeier and Dr. Martin can build teeth from special bio-compatible materials such as titanium and porcelain. In addition to placing and restoring dental implants, the dentists can also provide bone grafting, sinus lifts and root augmentations, depending on the patient's needs and desires.
If you are looking for a dental practice in East Aurora or Amherst that cares about you and your family's dental health, call Westermeier Martin Dental Care today. As one of the leading, most well-respected dental practices in the community, you will know that you will receive upscale care by professionals you can trust. Together with our friendly, helpful staff, we can make you feel at home and help you get the ultimate in dental care and oral health today! Call to schedule your first consultation and examination appointment today, and find out what makes Westermeier Martin Dental Care so popular with discriminating patients.
For smiles that last a lifetime!
Register for our free monthly information seminars about dental implants.
Before and After