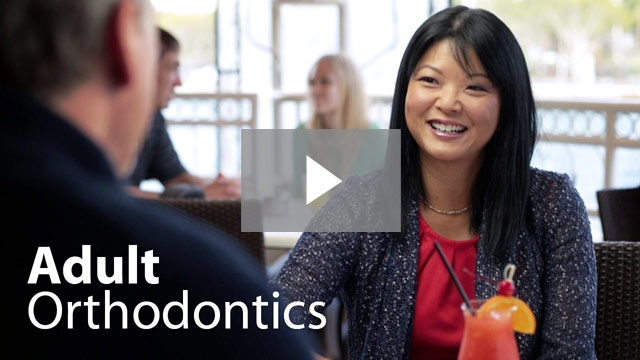 Orthodontic treatment is no longer just for teens. In fact, the American Association of Orthodontists states that one in five orthodontic patients is over the age of 21. Many adults are choosing to receive treatment because they understand the importance of maintaining their health, and they want to feel better about their appearance. Adults everywhere are taking advantage of the opportunity to receive orthodontic care, and now you can too.
Common reasons why adults & teens consider orthodontic treatment:
A bad bite or malocclusion, causing teeth to fit together incorrectly
Teeth are crowded or spaced apart, possibly causing tooth decay or gum disease
Abnormal jaw pain, or pressure that is caused by crooked teeth
Desire for a healthier mouth and a more confident smile
Treatment options for adults
For many adults, the thought of having metal braces is enough to discourage them from receiving treatment. However, today's orthodontic treatment options offer a variety of braces and appliances that are comfortable, aesthetic, and customized to meet your needs. Types of braces we offer include:
Clear Invisalign aligners
Ceramic braces
Lingual (behind the tooth) braces
Why should you consider orthodontic treatment?
Straight teeth are healthy teeth — Teeth that are properly aligned are easier to keep clean with flossing and brushing, and may help prevent other health problems.
A beautiful, straight smile builds confidence — Orthodontic treatment can help boost your self-confidence, giving you a better quality of life and the freedom to smile without holding back!
Mouths left untreated can get worse — Not receiving orthodontic treatment when it's needed can create long-term health issues costing you more in the end.
To learn more about the benefits of adult & teen orthodontics please contact our practice here to schedule an appointment. We understand that you have a busy schedule, and we will work with you to make sure office visit area as few and convenient as possible.
Looking to improve your smile?
Get a free digital consultation from Westermeier Martin here
At Westermeier Martin Dental Care, we offer the latest techniques and technologies in adult and teen orthodontics. We can perform rapid orthodontic correction using the ever popular Invisalign, and get even faster results for most of our patients with OrthoPulse. OrthoPulse is a tested and proven technology that can cut orthodontic treatment time in HALF- a big boon to our busy schedules! OrthoPulse is now available at Westermeier Martin Dental Care, learn about it more here
Invisalign 
Invisalign uses clear aligner trays to slowly move teeth into more desired positions. Teeth shift and realign in the same time frame as traditional orthodontics, but is done so with clear removable devices patients can take in and out for cleaning, eating and drinking. Treatment times vary, depending on the severity of the case.
When you schedule a free consultation with Westermeier Martin Dental Care, you'll learn more about the different treatment programs available for patients like you who want to transform and realign their smiles into a more beautiful presentation. Call today to schedule your no obligation appointment and find out how you can receive a tremendous esthetic boost from non-traditional orthodontic treatments. Don't have time to come into the office for a consultation? We now offer, free, easy virtual consultations. Find out more by clicking here.
Before and After
Dr. Martin and his staff are wonderful. They are friendly, helpful and make you feel comfortable. The facilities are beautiful both inside and out . I've never had a bad experience here. Would highly recommend Westermeier Martin to anyone looking for honest , knowledgeable, and kind dentists and dental assistants who treat their patients with compassion and respect. They are honest about dental work and will not rip you off ( unlike the high profile dentist in Amherst that I had previously been to). Westermeier Martin have integrity and class.
The staff are Amazing!!!! They are always so pleasant and patient with each person. There is never a long waiting period to go into a room. Dr. Ehlers is wonderful. I am so glad I made the change from my dentist to Westermeier Martin. Never have I been disappointed with anyone or any procedure I have had done. Very thorough and answers every question. Would highly recommend!!!!!
The staff were welcoming and helpful. Check-in was quick, though patients should have their new patient paperwork completed in advance. Patti and Doctor took enough time to review the situation, run through the potential treatment plans, explain the procedures. They also reviewed options for the timing, costs and potential issues. They were very accommodating in terms of planning for the overall treatment and sensitive to options to spread the cost out to meet budgeting requirements. It was a great initial consultation.